The 30-year-old from Peja was forced to emigrate to the United States because of the Kosovo war. However, she never forgot about her origins.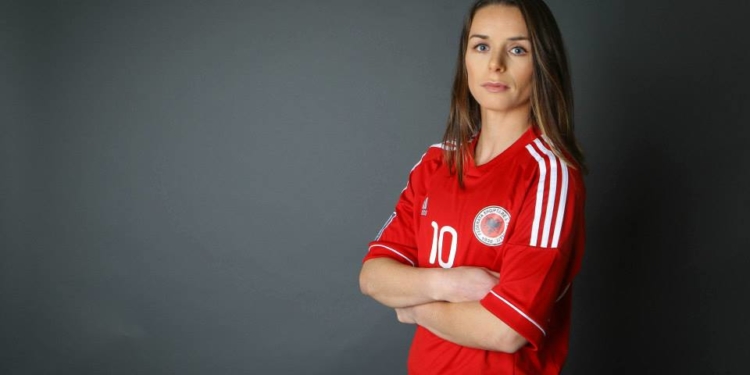 Football reports most often use terms such as fight or battle to describe fought games. Fortunately, for most players these metaphorical fights and battles will be the only ones they will know in their lives.
But not everyone is like that. For Furtuna Velaj, a player of the Albanian national team, the war between Kosovo and Serbia at the end of the last century meant being forced to flee from his homeland with his family.
"I was very young when the war between Kosovo and Serbia broke out and we moved to the United States. The United States was very welcoming to my family and we felt at home here. " – said the 30-year-old Albanian in an interview with FIFA.
"We are very proud of our culture, our origins and our language. My parents always wanted to make sure we never forgot where we came from. I was young, but I remember a lot of the place where I grew up.
The United States is my home because my family is here and I grew up here, mat the same time, I come from Kosovo – this is my culture and my background. To be honest, I'm very lucky that my family moved here. If I had grown up in Kosovo, I don't know if I could have played football. " – continues Velaj.
The carreer
Her career began at Connecticut FC, where she won the Connecticut State Cup. Subsequently, she moved to other clubs in the United States, before moving to Iceland (to UMF Afturelding), Canada (to Toronto Lady Lynx), Finland (at PK 35 Vantaa), Norway (at Kolbotn IL) and Germany (at SC Sand).
"I tell everyone that I take something from every different country. In the United States I learned to never give up I worked hard until the end and I did everything 100%. Canadians are similar but have a bit of a European mentality even when it comes to football.
The country that influenced me most was Norway. Everyone is super fit, and that's where I learned a lot about how to eat better and how to become a professional footballer. I learned to take my fitness to another level. In Finland, however, I learned to be more relaxed.
I think I learned more in Germany. I learned a lot about tactics and technique. The Germans do not run like in the United States but are more intelligent. They understand the game better. They don't run and work hard, but their understanding of the game is far better – they knew when to be in the right place at the right time. " – said the Albanian footballer.
Born in Peja, Kosovo, Velaj is now a citizen of the world and can share her vast knowledge and experience with her teammates in the Albanian team. He made his first appearance in 2011 by helping the national team get through the preliminary rounds for the FIFA Women's World Cup twice in a row, in 2015 and 2019.
"Scandinavian countries are the best examples for a country like Albania. If you look at men's football, you have to take a cue from what Iceland has done.
A country of 300.000 people who has been able to qualify for all these great tournaments. We are a country of just over two million more with all the players living abroad, so you have a great choice. It's just a matter of mentality. " – concludes the 30 year old from Peja.
A message that Furtuna Velaj wants to convey to future generations of Albanian footballers, to ensure that Albania too becomes a competitive national team like the Scandinavian countries she admires so much.